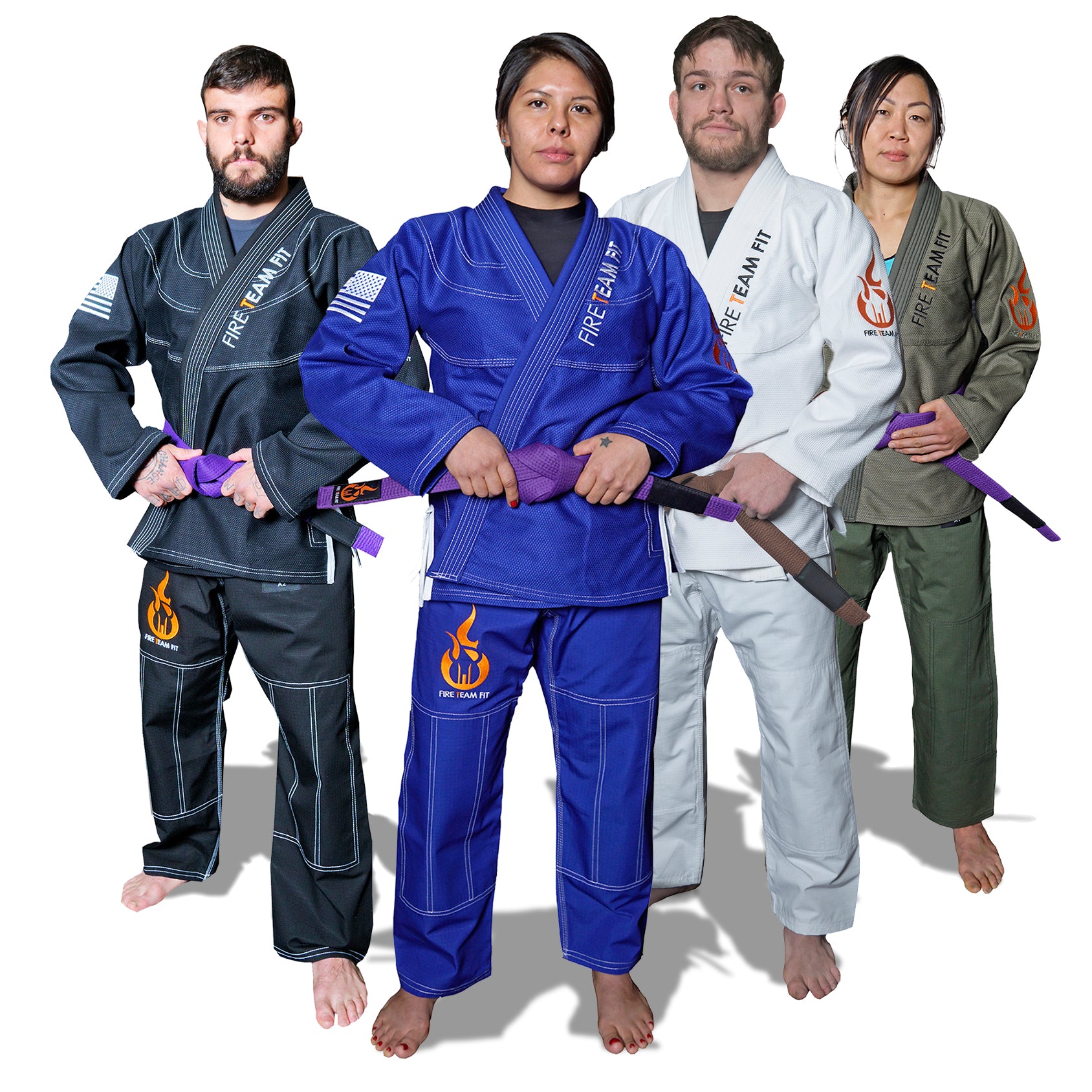 Fire Team Fit BJJ Gi, Jiu Jitsu Gi, Mens and Womens Kimono, Preshrunk, Brazilian Jiu Jitsu Gi with Free White Belt
AMAZING QUALITY FOR THE PRICE: The design of this BJJ GI is optimized to provide the highest quality at an affordable price. The Ripstop pants use a drawstring to provide a secure fit and are constructed with reinforced stitching from the shin to ankle for ultimate durability.

MIDDLEWEIGHT DURABLE GI: This Brazilian Jiu-Jitsu/ BJJKimono is 450 GSM. This sturdy GI is more durable than the lightweight versions and is designed for both Jiu-Jitsu training and competition. The Kimono is made out of durable pearl weave fabric which gives a lighter and softer feel when wearing.

IBJJF APPROVED: This affordable Jiu-Jitsu Gi which also can be used in Judo training is designed to the International Brazilian Jiu-Jitsu Federation so you can wear this Kimono in All competitions held by IBJJF.

LONG-LASTING AND STRONG: Made from pre-shrunk cotton fabric, this is a great fitted GI for both training and competition. The 10oz Ripstop pants also come with a rope drawstring that provides a better fit. The BJJ pants also have reinforced stitching from shin to ankle for greater durability.

ANTI MICROBIAL: The anti-odor treatment on our GIs helps you Gi stay dryer and cleaner while reducing bad odor throughout your training sessions. FREE WHITE BELT INCLUDED: This Middleweight BJJ Kimono comes with a white belt and stripe bar. The design of this GI gives you more than enough room for patches from your gym/ academy.
Gi
Gi seems to be durable. It didn't shrink when washed but the A1 fits a little smaller than my other ones. Very comfortable and a great trading Gi. I will be more .
Best Gi for the price
I have a number of gis from many different well known brands. This one is the best. The combination of weight and feel are unparalleled. Get one!
BJJ Gi
Thank you for supplying a great BJJ Gi. I'm a former Marine Grunt and at 44 just started to roll, i have got a lot off compliments on my Gi
Green Gi Size A1
Oh my goodness I don't know where to even start! If I knew how to upload a picture I'd love to even show you guys how it looks! This Gi is absolutely amazing. I'm talking about the comfort, the material, the texture, overall I'm extremely impressed. The Gi fit perfect length on my arms and legs. I am 5"2 around 130IBS if anyone else is second guessing what size will fit! I appreciated the shipping did not take long to arrive and was well secured. I received so many compliments from everyone. The color is also so beautiful exactly like the picture. I loved the stitch of the LOGO I 100% recommended and I'm so glad I was referred to order from Fire Team Fit!!
Excellent
I am very pleased with this GI. It is an amazing value! This is a sturdy solid feeling GI. This Gi also has great looking embroidery on it too. I am glad to support another veteran owned company.
Thank you