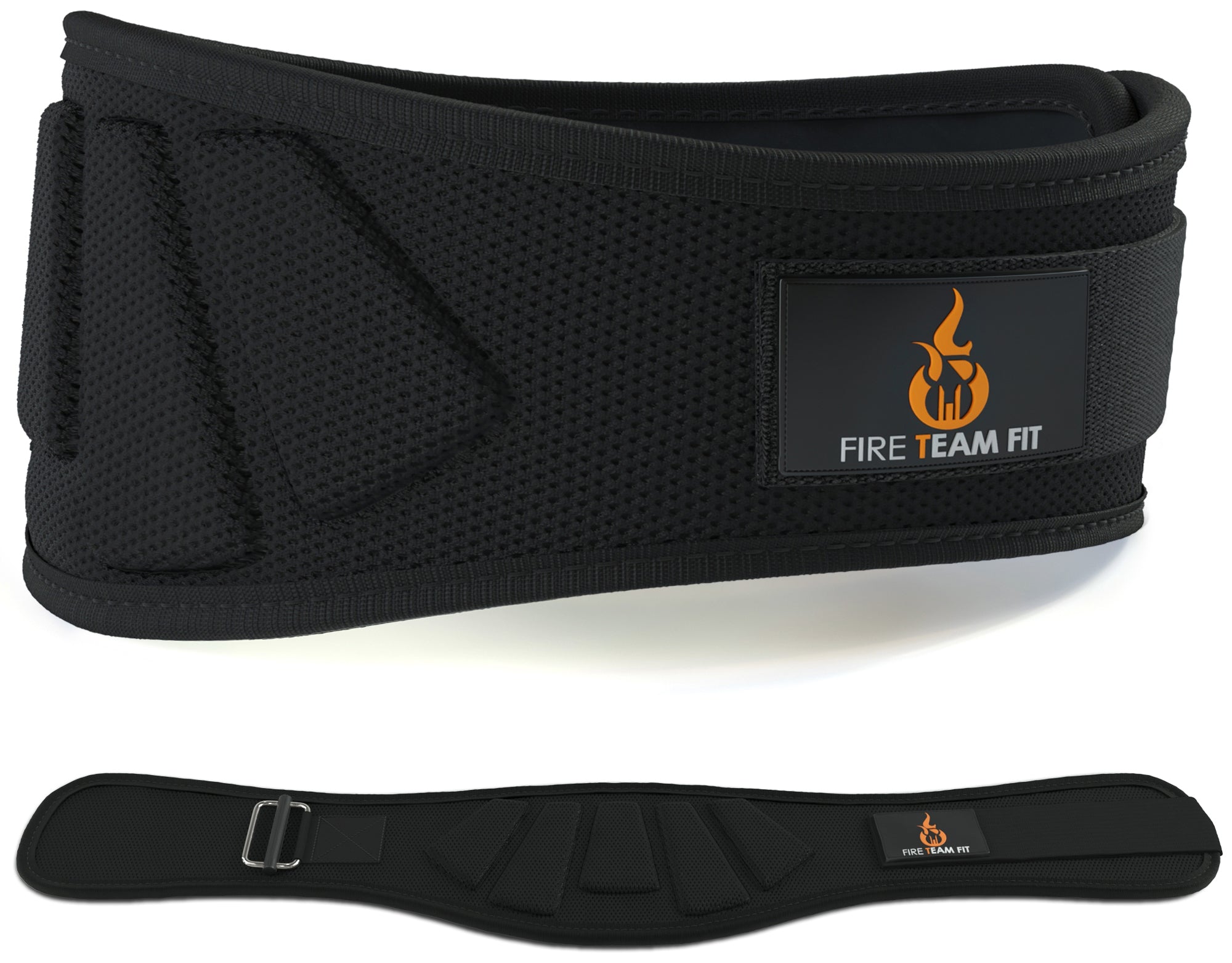 6 in Nylon Weight Belt
Exercise in the Gym - Fire Team Fit Weight Belts helps promote good form while lifting. Avoid injury and maximize your exercise performance. Available in Black, Blue, Grey and Pink.
Work Out with Confidence - Feel and look your best while promoting safe weight lifting technique.
Lightweight Contour Design - This belt is designed to support your back while providing you the mobility to perform multiple exercises. Not only can you Bodybuild using the weightlifting belt, but it is ideal for exercises such as Back Squats, Power Cleans, Dead Lifts, Clean and Jerks, Overhead Squats and much more.
Abdominal and Lower Back Support - Unlike a leather belt with a predetermined set of holes, the support strap gives the ability to adjust tightness for the desired comfort and support needed for leg and core body exercises.
Use for Powerlifting and Olympic Lifting - The Weight belt provides excellent support for a variety of exercises.
Size Matters:
If you purchase Fire Team Fit's weightlifting belt and it does not fit, we'll give you a refund or a different size weight belt. Please do take a look at the pictures at the waist measurement chart to ensure proper weight belt size.

Determining Size:
Pant size is not always an indication of belt size. Use a flexible tape measure or a string and measure from your belly button the distance around your lower back in inches.

Designed to Last:
Quality manufacturing, a heavy duty strap and a sturdy roller buckle all lead to a superior design, which will be there to support you whenever you need it.

We've got your back:
We are so confident in the quality of our products, that if for any reason you are not satisfied with your Weightlifting belt, we will give you a full refund.
Excellent belt
Had Sheik belts for a many years and really liked them. I actually like Fire belt even better. It is wider and stiffer, but not uncomfortably so.
business Proposal
hello sir kindly spare some time i came from pakistan i want to meet you but nobody give any mail response.
we are regular manufacturer of weight lifting belt,dip belts,arm blaster.
here is my email;[****]
Haven't received item
Still haven't received item
Great belt great fit, great cause
Ordered a new lifting belt for my son for summer baseball training. It was exactly what he had in mind, and helps with heavy lifts for posture and support. It's also nice knowing it's a veteran based company mission. God bless the troops and thanks for a high quality belt. He's been cracking PR lifts all summer.

x